Post by CRYSTAL HARLEY BANKS on Mar 27, 2012 1:02:31 GMT -5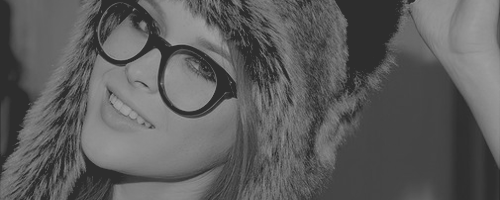 CRYSTAL HARLEY BANKS
SEVENTEEN. LOUD. FIRECRACKER. SEXUAL. RIDIN' SOLO.
Oh, hey Broken Arrow! Look who's it is! It's Crystal Harley Banks! Oh, uh... perhaps you know them by their nickname, Cryssy? Anyway, this certain blessing in disguise came to us on December 12, and grew up to be a hefty 5' 7". You can always tell it's Cryss because of their ginger hair, greenish eyes and curvy silhouette and pale, freckled skin. Not to mention they've gotten themselves four tattoos! You know, everyone says they look like Renee Olstead? I personally don't see it though ....

The fat lard of a principal looked over his papers with a rather disinterested attitude. He noticed you sitting down, but doesn't really have the courtesy to look up from his desk. To you, he says out loud. "Let's begin sha'll we? Tell me the basic details about yourself." With a cough, he shuffled through is papers and glanced at you once through his small eye glasses.

Crystal leaned back in her chair and crossed her legs, running her hands over the ripped denim jeans that were beginning to cut off her circulation. She would have dressed more appropriately and done her hair and make-up, but she went out last night, and barely came home in time for her mother to bring her to AMG for the interview. At the very least, she could act like a dignified member of society who possessed even the smallest bit of class. Not that this stupid man deserved it. "My name is Crystal Harley Banks. You should probably already know that, but hey. Whatever. I'm not judgin'." She paused for a second, to watch his reaction. There wasn't one that she could see. "Anyway, I'd rather be called Cryss. I'm seventeen and a sophomore. I failed seventh grade, which is kind of a funny story because I'm not actually stupid. I just happened to miss a lot of school and get in trouble with truancy."

Cryssy shrugged and brought one hand up to finger a strand of her messy hair. She couldn't wait to get out of these clothes and take a shower. She really hoped this didn't take too long. "I have really bad ADHD. I don't know if that's important. I was a crack baby--holla. But I have to take meds for it or else I'm all over the place.You should really see me when I'm non-regulation. It's pretty bad." She laughed, here, and dropped her hand onto her lap, enjoying the sound of the bracelets clattering. "But, yeah. I don't know if we have to get special permission for medication or something? But it's just a little important." She waved her hand in the air, mostly to hear her bracelets jangling again. Noise always made Crystal more comfortable.

With a sigh, he leaned back in his chair, threw his glasses on the desk and ran his chubby fingers through thinning, greasy hair. He pinched the nose of his bridge and closed his eyes tightly as he said, "You know about the truth of this place. Now, I didn't invite you personally, my staff did. So please, give me a run down of your power." With his eyes still shut, the principal gestured with one arm toward you to begin.

Crystal was very dangerously close to becoming enraged with this man. Why was he being so apathetic? Maybe he went through hundreds of these interviews a year, but for her, this was a very important conversation. It wasn't fair of him to behave the way he was. But if she got angry, she just knew she was going to blow this interview, and she really. Really needed to be here. She needed to get out of that stupid, disgusting house. "Well, I don't know how to explain. I've always been able to, like, see the energy that comes off of sound, sort of. It looks like heat waves, I guess? Like every time you talk, there are these little interruptions in the atmosphere around your mouth."

Cryss brought out her phone, and put it on his desk, turning on a slow country music song. She put it halfway up, which was enough for her sensitive ears. "But I can sort of bring it inside me. And release it as light." She was silent for a few seconds, and then she began to radiate a soft glow. After a few seconds, it faltered, and she turned the music off and put her phone back up. "If there's enough energy, I can make it more tangible. I'm not very good at it, but I've been able to make tangible objects. Well, not really objects. It's just energy. But still. I can get really bright, too. I practice a lot. I go to parties almost every night because the music is loud and people are screaming and laughing, you know?" She thought back to the first time she could remember having her power, but nothing really stood out. As far as she knew, she had had and used it all her life.


Finally, his eyes opened groggily. However, he wasn't much warmer. He yawned loudly and largely as he looked over your paper. With eyes watery and face red he continued, "I see why we would have invited you. Let's see..ah yes. Mind telling a bit about your family and where you're from?"

Her family? She didn't know if she'd be able to talk about that. Not with this asshole. She might have one of her meltdowns. Or, worse, it would piss her off and she would react the wrong way to his next question. She shifted in her seat,and straightened up a little, twirling her hand nervously to hear the bracelets again.

"Well, I was born in Copan, Oklahoma, which only has about 900 residents. Probably less. Real small town. Lots of scandals. But when I was six months old, we moved to Broken Arrow, which has almost 100,000 people. We moved again a few years ago, to a nicer neighborhood with the money we got when my grandmother died."

Crystal thought that she might not have mentioned that. She had been closer to her grandmother than she had been to the rest of her family, and thinking about her was always a depressing occurrence for her. "Anyway, uh, when I was little, things were really tough. I mean, we had money but we were only getting it because my dad was running a meth lab. Cool, right? My mom was more interested in crack, though. She quit after I was born. Or tried to. She was okay by the time I was five. That's when my dad OD'd."

Crystal, who is never one to be very discreet, stood up and lifted the left side of her shirt to expose a tattoo of a thin silver feather that wrapped around to the small of her back. "I got that for him a year ago. My mom was really mad. She doesn't understand why I loved him so much, but he was my dad, you know? Plus, it's more for how often my life changes." She sat back down, then and crossed her legs again.

"Things were pretty good after that. I would visit my grandma all the time, or go hang out with Zack. He's my best friend in the world. He lives with us. Lived, I guess. I don't know if my mom kicked him out or not. Anyway, for a while, things were actually pretty nice, you know. But then my mom started dating again when I was eleven. Really, she was probably dating Jorge way before that, but that's when he moved in. They got married a year later. He was just arrested for raping me, then beating me so hard he killed the unborn child inside of me. He did that when I was 14, but he's been doing bad shit to me since he moved in. Four years of that. Zack had moved in by that time. My mom didn't want to believe me, and Zack couldn't do anything because he isn't much older or stronger than me."

Crystal took a second to remind herself that she didn't need to be talking about all of this. But it was so easy. She would tell anyone who was willing to listen, and she knew it. Even if they didn't care very much. Though, Crystal was sort of lying. She'd left out the part about her mother being an abusive alcoholic, but she didn't want to get her mom arrested. She needed a place to go during the holidays. And anyway, without her mom, she had no money.Nor did she have a way to see Zack.

"Anyway, uh yeah. I was really adventurous when I was younger. I walked around the town a lot. I can't do that in Broken Arrow, though. I'd get lost." She laughed, a little bit bitterly, and realized that her attempt to liven the mood had been just a little sad.

Now she wanted to go and take that shower more than ever.She wanted so badly to be out of this room.

While you were talking, the principal had made himself comfortable by leaning back in his chair and intertwining his fingers. "Hmpf. You should fit right in. May I ask, what are your plans in the future? Outside of AMG?"

Crystal chewed on her pink frosted bottom lip. She didn't give much thought to the future. She sort of just let things happen as they would. She had given up on trying to change anything a long time ago.

But that's not what this guy wanted to hear. "Well, I could go the route my mother took and get into real estate. We both developed early, you know. That's the only real reason she sells any houses. It's a family gene thing."

That was probably the wrong thing to say. But she didn't care. It was better than yelling and throwing things. "So I'd like to do something where I don't have to deal with people. After college, you know. I can have a job where I don't make progress based off of my looks." That was a noble thing to say, right?

She was about done with this. She really really wanted to leave. She started tapping her foot against the floor, and the noise made her feel a little bit better. But she knew she was going to jet out of that door as soon as she could.

He looks much more interested now, rather awake and in a slightly better mood. "Tell me, do you have any hobbies?" he inquired, creating soft jazz hands at the word 'hobbies' as if to mock it. "You're aware that it may be difficult to continue these on the island, as you may not leave outside of break?" It was more of a statement than a question.

Crystal's foot stopped moving and she took a deep breath. This guy was really starting to agitate her. "I just dance a lot. Like parties. I walk around a lot. You'd think that a school would provide more recreational activities for students, when it keeps us all locked up here with no outlet for stress. I mean, that has to do some pretty shitty things to some of their powers, right?" Crystal folded her arms over her chest and looked away from him.

The principal crossed his fat arms and leaned on his desk. In a much more serious tone, he asked, "Be honest, child. How do you feel about all of this...supernatural stuff?" his shoulders shrugged as he said it.

Crystal didn't answer for a few minutes, trying to sort her thoughts out. She liked it for all of the selfish reasons, of course. Getting out of her house. The new experiences. Discovering herself. Becoming more powerful. But then again, she had to leave Zack behind and she would have to make all new friends. She didn't think it was good for a bunch of supernatural kids to all be in one place together, either. Surely there were dangers involved.

But she didn't voice any of that. Instead, she said, "I think it's a wonderful opportunity and gives us all a chance to find family in a world full of people who are terrified of us." She didn't sound too convincing, even to her own ears. She tilted her head towards her right shoulder with a smile, though, and prayed he didn't ask again.

He leaned back on the chair that squeaked under his weight. "I see. Personally, I have mixed feelings. Anyway, we're finished now." The Principal grunted loudly as he got up to shake your hand. "It was a pleasure meeting you, do you have any questions for AMG?" he added, as he let go of your hand and buzzed the receptionist to lead you out.

"No. Sir," she grumbled, a bit disgusted by his sweaty handshake. She offered one last, unconvincing smile before she left, more eager to leave than she was to start school.


Becca. Central. Female.
FACE CLAIM
[b]Renee Olstead[/b] • [i]Crystal Harley Banks[/i]