Post by Dreamland Strip on Jun 23, 2012 20:18:31 GMT -5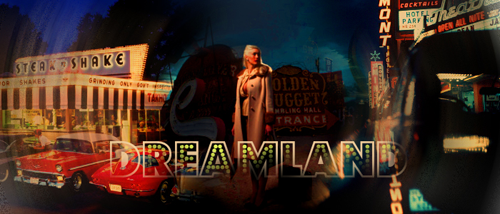 Las Vegas. 1958.
What once started as a simple city to comfort those on their journey from the East to the infamous City of Angels, is now becoming a booming strip of hotels and casinos. Entertainment, along with gambling, builds Las Vegas' reputation as a playland getaway of the world. People flock to the city not just to gamble, but also for the fantastic entertainment that it provides. Yet, the other popular site in Nevada, not too far from the strip, is Groom Lake (positioned not too far from a booming military base). In fact, not but a year ago, the most strange and mysterious event occurred at the lake, an incident not many residents of the city are keen on forgetting. On a cool summer's night, all the power in Las Vegas was sucked from the strip and all electronics stopped working at the same time. At the exact moment this strange phenomena was occurring, a massive explosion occurred at the site of Groom Lake. It was only the next morning that all power was restored to the Strip and its residents. But, that was not the only site to be held the following morning; for many traveler's came running back into town, exclaiming no bomb wreckage was to be found near the military base, yet all the water in Groom Lake had seemingly disappeared within a mere few hours.

It has been a year since that night, and all have taken the military's explanation that what people saw and heard was merely the result of some experimentation that they had under control. Yet, not everything in Las Vegas has returned to normal. In the past few months, there have been over a hundred reports of missing people. The citizens of Las Vegas seem to be disappearing left and right. Most attribute this to the sudden appearance of strange folk about town. Just as soon as people started disappearing, mysterious, new strangers have been seen walking about town, but only during the day…never at night. They keep their faces hidden and wear an amount of clothing that any Nevada native could tell you would kill the strongest desert animal in the heat. The citizens turn to the military base near the Lake to make quick work of these new "Communists" so no more people will be forced to leave as a result of their unsettling presence. When the sun sets, however, all concern for the city and its people is replaced by a concern for the amount of coin that needs spending and the company that the nightlife and entertainment in Las Vegas can provide.