Post by SHERIDAN RAQUEL BALSA on Apr 6, 2012 1:30:16 GMT -5
[atrb=border,0,true][atrb=style, background-color: #F1F1F1; border-top: solid #5a5a5a 5px; width: 500px; padding-top: 20; padding-bottom: 30;]

[classy=tite]SHE'S GOT ALL THE RIGHT IDEAS IN HER SHINY BACK POCKET[/classy][classy=cont]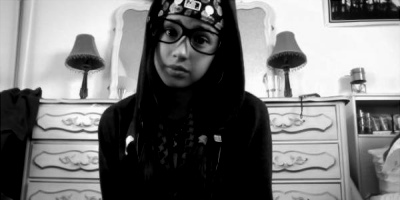 [/classy]
[classy=threader]
Eeeeeeeeeeeeeeeeey buddy! This here sweety pie is the one and only Sheridan Balsa. Though her past is shaky, and she's definitely come through a lot, Sher is really good at looking at the positive side of things. She's fun to hang around, and very funny. She's extremely laid back and comfortable with herself. You won't find her talking about her past often, or fighting with people. However, she is very open and honest. If she disapproves of something, she'll be sure to point it out in the most nonchalant way possible. She's very bold and doesn't seem to have a good perception of superiority levels. She thinks everyone is equal, and she really acts like it. She might be described as moody, because she can change from hyper to melancholy to chill in five minutes. She smokes a lot of weed. She's not the smartest Brazillian on the block, but she sure is funny as hell. She doesn't hide her lesb-identity. She doesn't hide much of anything. If you ask, she'll probably tell you. Try not to bring up her older brother, though.
As far as religion goes, she's mostly Catholic but she sees things her own way. She's very close to God in her own way, but she mostly preaches acceptance.
MANGS: While Sher is really fun to hang out with, she's sometimes hard to understand and can be a little hard to deal with when she starts preaching about changing the body that God gave you, but her intentions are good and she tells a sweet joke. She wouldn't want to hang out with anyone who was prone to starting drama. She would probably have jock friends and art friends. Maybe a few Jesus Freak types, too. Potheads are always welcome, as well.
MAMACITAS: Sher wants what she wants and she makes it known. If she's into you, she'll hit on you. If you're straight, she'll probably whine to her friends until someone else comes along. She's occasionally really oblivious to flirting. She's not about it. It's not her number one priority, but for a sweet gal she wouldn't mind showing off her girlfriend guns. As for sex, she's a virgin and she plans to stay that way for a good long while. Maybe not until marriage--considering she might not be able to get married--but long enough.
HOOKAS: Sher could have a few enemies, depending. There's always homophobic bullies as a possibility, and then people who get too upset about her honesty. I can imagine that teachers wouldn't like her very much, either. You have lots of free grounds here. Have fun!
ARTY: rosetta stone for the english-challenged
EVAN: baby you da finest
FELIX: goofy ass wingman
GAGE: real talk baybays
JARED: translatin' brocitaaaa
LOLI: wat a que tay
MADDY: water ya lookin' at?
PEPPER: homo bromos
STORY: honorary georgie
TAK: president of the foreigners club
ZACK: potential brother figure

NAME: relationship

VANCE: haHA no

[/classy]
[/td][/tr][/table][/center]