Post by SHERIDAN RAQUEL BALSA on Apr 6, 2012 23:48:04 GMT -5
[atrb=border,0,true][atrb=style, background-color: #FF6699; border-top: solid #FFFF00 10px; width: 500px; padding-top: 20; padding-bottom: 30;]

i got them moves like jagger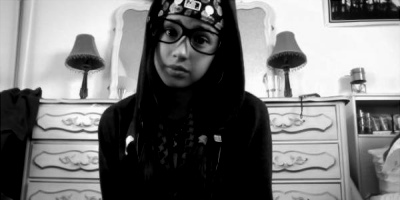 "Booyaaah!" Sheridan yelled, pumping her fist twice in the air, a wide grin on her face. It was only a matter of seconds before she had her Ultra Game Face on and was aggressively punching the buttons on her game again. It was the high score that she wanted. She could smell it beneath the dust and moldy plastic of the video games.

Sher had been in the room for hours. The goal was to beat the high score on every machine. She assumed that no one else had shown up due to the fact that most of these games were breaking edge thirty years ago. She didn't mind the solitude very much. It gave her the grounds to scream as loud as she wanted. And screaming was very much called for in this high stakes level.

Thirty points more and she would beat the final high score and . . . Well, she didn't have any plans for when she finally completed her quest.

She moved with the thirty pixels that made up her character, first to the left, then backwards, and finally she leaned forward and was so close to the screen that she was risking blindness. She didn't care. This high score was the only important thing to her at that moment. Nothing else mattered.

The points climbed up, and time seemed to slow at an alarming rate. Her muscles tensed, and her eyes narrowed. For someone who had never played video games before, she was amazed at how quickly she had picked up on it.

Three points away and . . .

WOMP WOMP WOMP.

GAME. OVER.

"No way! I had it. I was so close!" she lamented. Her words were followed by a despairing groan and she brought both hands up to her face to bury it in them. It had been in her grasp! And she had let it slip away. Just like that. Oh, cruel fate!

She took a moment to calm herself down, then restarted the game. Everything went by much quicker this time. Though it had probably been at least half an hour, it felt like mere seconds had passed before she was again only thirty points behind the high score.

Sher didn't notice this time. She was entirely too deep into her game. It was only when she lost ten minutes later and the screen blasted tiny virtual confetti canons, congratulating her on beating the high score and asking for the first three letters of her name, did she realize that this was it--she had won.

"Fuck yeeeeah, bitcheeeeeeeeees!" Sheridan did a little victory dance, then remembered to put S-H-E into the machine so everyone would know it was her. Or, at the very least, would wonder who SHE was. If only there was an extra slot, and she could have written SHER.


WORDS:

473

TAG:

opennn

NOTES:

HAY DURR

WEARING:(dis)
[/td][/tr][/table][/center]