Post by AIDEN GRANT LITTLE on Apr 22, 2012 20:53:03 GMT -5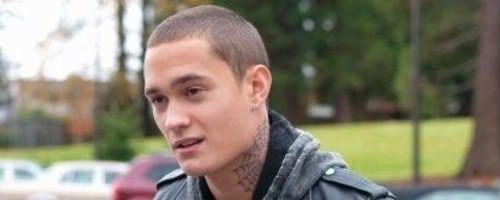 [classy=apptite]AIDEN GRANT LITTLE
[/classy]
FIFTEEN. UNPREDICTABLE. ARTSY. HETEROSEXUAL. SOLO.
[classy=appdesc]Oh, hey
Dublin
! Look who's it is! It's
Aiden Grant Little
! Oh, uh... perhaps you know them by their nickname,
Aid
? Anyway, this certain blessing in disguise came to us on
June eighth
, and grew up to be a hefty
five feet ten inches
. You can always tell it's
Aid
because of their
brown
hair,
brown
eyes and
high cheekbones
. Not to mention they've gotten themselves
three tattoos
! You know, everyone says they look like
Rafi Gavron
? I personally don't see it though ....
[/classy]
[classy=app1]
The fat lard of a principal looked over his papers with a rather disinterested attitude. He noticed you sitting down, but doesn't really have the courtesy to look up from his desk. To you, he says out loud. "Let's begin sha'll we? Tell me the basic details about yourself." With a cough, he shuffled through is papers and glanced at you once through his small eye glasses.

Entering the room, the first thought that popped into my head was that this was the bleakest office I had ever been into. And that's saying something. I've been in so many different schools it's not even funny, and some of the rooms made me want to cry for the lack of artistic talent (or any kind of decorating taste in the slightest). My first instinct was to throw a bucket of paint on the dull, gray walls. But I couldn't think about that now. Maybe later. I could find a recruit or two, and we could ransack this awful office and vandalize it. Yes, that would be enjoyable.

We are waiting for you, Aiden.

I blocked out a wince, hardening my face into a facade of boredness. Inside, I was squirming uneasily. Anytime I think of anything that might be fun and then they turn up.


Heaving a sigh, the boy looked the grubby man over, a look of plain disgust on his face. The man radiated a stench of cheap beer, old tobacco, and beef jerky, all three of which Aid hated. So, the principal wanted to get to know him, huh? The fifteen year old doubted the guy gave a rat's ass about him, and was willing to bet that once he walked out of this room - an event that couldn't come soon enough - all thoughts of Aid would be forgotten. "Well, I'm Aiden," he paused a bit before remembering that maybe he should include a last name. "Aiden Little. I'm a freshman."
The boy didn't add the fact that he had cancer. He never did. He had acute leukemia, and was diagnosed a couple years back, but he refused to admit it. He flat out denied that he had any type of disease, even though his was pretty bad. He won't listen to the doctors, as he had dubbed them as 'insufficient' a long time ago. They have tried to tell him how bad it was, but he simply wouldn't hear it, cutting them off with some story about how the New York Yankees sucked. Not that he cared about sports.
-----------------------------------------------------
With a sigh, he leaned back in his chair, threw his glasses on the desk and ran his chubby fingers through thinning, greasy hair. He pinched the nose of his bridge and closed his eyes tightly as he said, "You know about the truth of this place. Now, I didn't invite you personally, my staff did. So please, give me a run down of your power." With his eyes still shut, the principal gestured with one arm toward you to begin.

The man looked as though he were watching a movie on the importance of water, bored and uninterested in whatever I was going to say. Why would he want to listen to his, if he didn't give a damn? If I were in his position, I would simply quit. I mean, come on, he made is seem like working at Wal-Mart would be a walk in a pretty park after this job. And maybe it would.

When he spoke, I wanted to explode. Could he be more rude? I didn't invite you personally, blah blah blah. What the hell? He, obviously, didn't want me here anymore than I wanted to be here. Which was a lot. But if he was going to be difficult, than so was I.

With a steely look of loathing, the boy opened his mouth to speak. The words, however, didn't want to come out. "I talk to dead people. As in, like a medium." His voice was as matter-of-fact as if he had just said he liked watching The Big Bang Theory. His face remained an impassive mask of uninterested boredom. He had expected the man in front of him to somehow react in the slightest. No such luck for him.
-----------------------------------------------------
Finally, his eyes opened groggily. However, he wasn't much warmer. He yawned loudly and largely as he looked over your paper. With eyes watery and face red he continued, "I see why we would have invited you. Let's see..ah yes. Mind telling a bit about your family and where you're from?"

I was, admittedly, perturbed by the reaction of the man - or the lack of it. Too be honest, I had anticipated at least a little uneasiness on his part. My family? Oh, that was easy.

Come to us...

His wince this time wasn't contained. No matter what the boy thought, he wasn't very good at hiding his emotions. Soon, he hardened his face once more in the mask of disinterest, and he gave the headmaster a completely weary, impatient look. "I've been an orphan for as long as I can remember. I've lived in an orphanage with no relations whatsoever." Once again, he was talking as bluntly as if he had just told the guy he liked the color green.
-----------------------------------------------------
While you were talking, the principal had made himself comfortable by leaning back in his chair and intertwining his fingers. "Hmpf. You should fit right in. May I ask, what are your plans in the future? Outside of AMG?"

Growing up in an orphanage run by crazy people, I soon learned that future plans weren't ones to shoot for. The teachers found in their duty to pound into our minds that they had once wanted to be marine biologists or doctors or crap like that, and they ended up teaching a bunch of dead-end orphaned kids. Whoop-de-freaking-doo.

Even so, I had always dreamed about being a professional artist. I bet I could make a piece of art out of a stick and a piece of metal. Not to brag, or anything. I occupied an abandoned old barn that I had discovered when I was five. I would spend hours upon hours there, creating whatever I felt like that day. I was living the life, so to speak, and I never wanted to change a thing. Except for the fact that I made very few friends in my fourteen years at that damned place.

His face remained impassive as the little inner monologue ran through his head. For once, he triumphed at hiding his emotions. "I want to be an artist," he paused for a moment before adding, "a good one."
-----------------------------------------------------
He looks much more interested now, rather awake and in a slightly better mood. "Tell me, do you have any hobbies?" he inquired, creating soft jazz hands at the word 'hobbies' as if to mock it. "You're aware that it may be difficult to continue these on the island, as you may not leave outside of break?" It was more of a statement than a question.

I don't know what I said, or what I did, but the guy looked more interested now. Maybe he was a fellow aspiring artist. But then again.. I looked around his room once more and quickly vetoed the thought as untrue.

With a clearly impatient sigh, the boy spoke again, "As I said before, I like art. That's about it. And there's no way that I'm cutting that out of my life." That wasn't a question, it was a statement. He'd throw himself off a cliff before he had to stop making art.
-----------------------------------------------------
The principal crossed his fat arms and leaned on his desk. In a much more serious tone, he asked, "Be honest, child. How do you feel about all of this...supernatural stuff?" his shoulders shrugged as he said it.

I, honestly, think it's cool. Not my power, of course, that is annoying-

We want you, Aid.

And there is goes again. A barely withheld the sigh that threatened to tip the whole 'facade of ice' thing. That was a close one.

The boy shrugged in what he believed to be a nonchalant manor. "It's alright, I guess."
-----------------------------------------------------
He leaned back on the chair that squeaked under his weight. "I see. Personally, I have mixed feelings. Anyway, we're finished now." The Principal grunted loudly as he got up to shake your hand. "It was a pleasure meeting you, do you have any questions for AMG?" he added, as he let go of your hand and buzzed the receptionist to lead you out.

I could see that this interview was basically done. All the while, I had been fighting the urge to decorate the place with whatever I deemed necessary, and I was glad to finally get away from it. Too be honest, I was also kind of excited to meet some new people. Not the people that knew me as the artsy orphan, Aid, but as a totally different person.

"No. I don't." And with that, the boy was out of that dull place faster than a bullet.
[/classy]
[classy=app2]aura. central. female.[/classy]
[classy=apptite]RAFI GAVRON [/classy]
[url=http://eoas2.proboards.com/index.cgi?action=viewprofile&user=aiden]RAFI GAVRON[/url]