Post by SHERIDAN RAQUEL BALSA on Apr 30, 2012 17:06:53 GMT -5
[atrb=border,0,true][atrb=style, background-color: 363636; width: 370px; padding-top: 30; padding-bottom: 30;]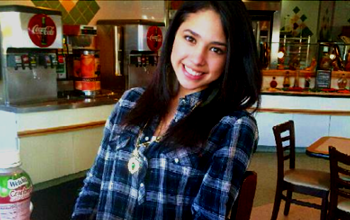 holding out for a hero,
he's gotta be strong, and he's gotta be fresh from a fight

Sheridan had been eyeing the cliff since she got to the Montessori. It wasn't that she was an adrenaline junky or anything, but Sher had a tendency to defy norms (and rules), and what better way to do that than to traverse the Forbidden Forest of AMG? She was going to go exploring, and she knew just the kid to drag along with her. You know, just in case she fell in a hole and needed some saving. Plus, Rufio wasn't really bad company anyway. Although, she would have to remember to tell him to wear shoes. Couldn't have those feet getting all cut up on jagged rock.

Today was going to be full of adventure. She could feel it in the air when she stood up. That, or she was being hit with the resounding force of Felix's snoring.

She threw on some clothes quickly, pulled her hair up in a bun, and it was out the door with Little Red Sheridan.

It was early in the morning, still. Sher wanted to get to the covered part of the cliff before it was light outside. That was important. She shoved her hands in her pockets and whistled as she made her way to the male dormitories.

Lucky for her, number 57 was unlocked when she tried the door. She bounded in and looked around for Rufio. Of course, seeing as it was 4:30 in the morning, it was no surprise that both beds contained sleeping boys. She walked over to Rufio's bed as quietly as she could manage and tried to sit on him. It didn't work out in her favor, however, because her butt slid off of him and she ended up banging her head against the wall. "Eeeeeeeeyooow," she groaned, making some bizarre sort of noise.

Sher shoved herself up and off of the bed, and put her hands on her hips, tilting her head as far to the right as she could to look at her sleeping friend. "Eugh, Rude-fus. Get up, you lazy fruitcake. We're goin' 'splorin. I even brought breakfast." Sher waved her bag full of Little Debbie cakes in his face, making sure to be loud with the paper crinkling. "We got places to go and things to see. Villages to conquer, shit like that. Get up get up get up get up." Sher kept chanting the last sentence until he conceded.


words
399 | tagged;
Rufio
|
outfit
(i am really sorry about having to make the door unlocked and rufio asleep and omg i can rewrite it if you want me to)
[/td][/tr][/table][/center]